Press Freedom
Reporter Arrested At East Palestine Train Derailment Press Conference Sues Police
"I'm bringing this lawsuit because journalists should be able to cover newsworthy matters without fear of arrest or retaliation," NewsNation reporter Evan Lambert declared.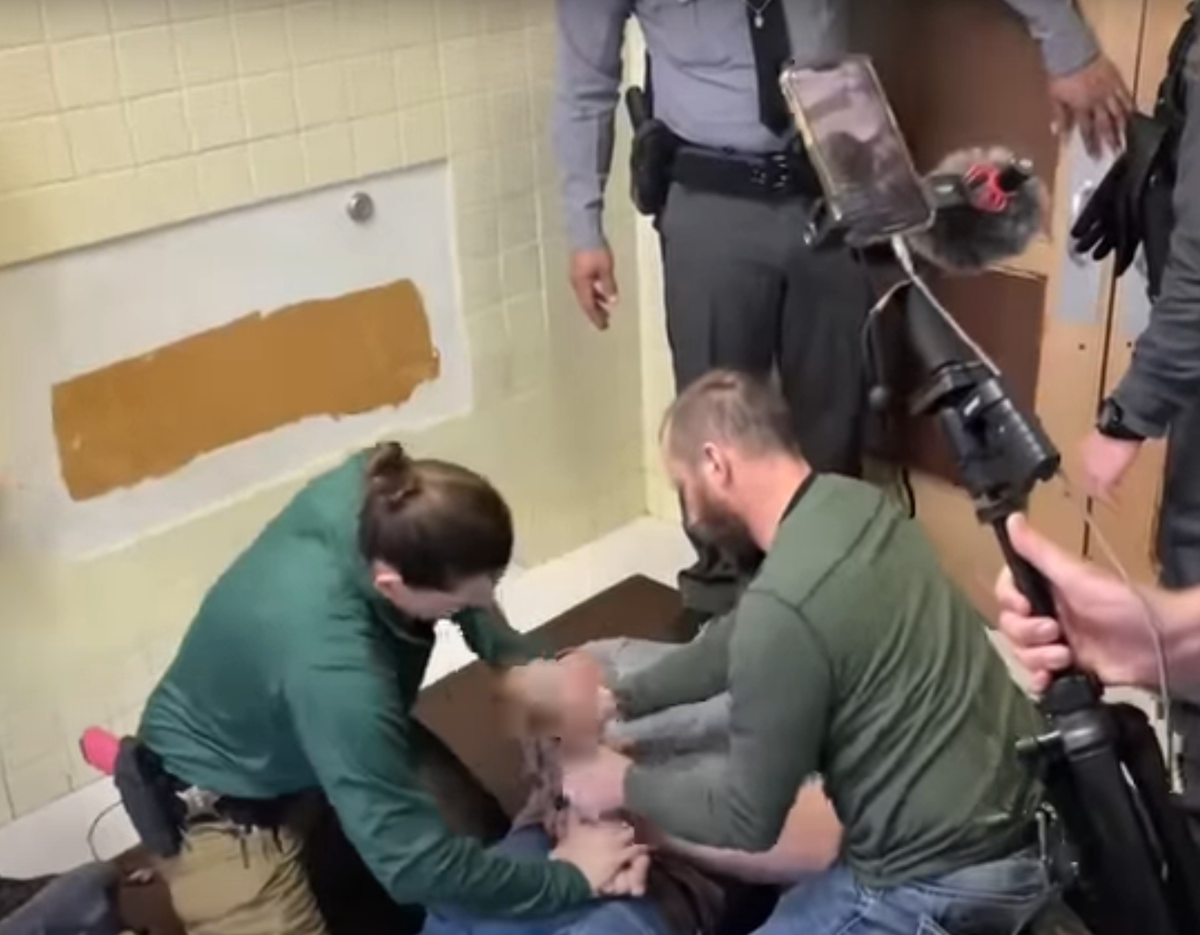 Support independent journalism on press freedom, whistleblowers, and government secrecy. Become a subscriber of The Dissenter today.

A journalist with NewsNation, who was assaulted and arrested while reporting live from a press conference after a train derailed in East Palestine, Ohio, has sued police and local law enforcement in the state.

"I'm bringing this lawsuit because journalists should be able to cover newsworthy matters without fear of arrest or retaliation," Lambert declared. "The public had an obvious interest in the response by Ohio officials to the train derailment in East Palestine, and as a journalist, it was my duty to report that information."

As described by Maximilian Alvarez for The Real News, on February 3, 2023, a Norfolk Southern freight train carrying hazardous materials crashed and exploded. There was then a "controlled release" and burn-off of toxic vinyl chloride. It was "one of the most catastrophic and devastating industrial accidents" in United States history.

NewsNation correspondent Evan Lambert was initially charged with "trespassing" and "resisting arrest." Several days later, the charges were dismissed by Ohio Attorney General Dave Yost.
Attorneys from the Reporters Committee for Freedom of the Press (RCFP) and the First Amendment Clinic at Case Western Reserve University School of Law in Ohio filed the lawsuit on behalf of Lambert.
The lawsuit alleges that Lambert faced excessive force, false arrest, "malicious prosecution," and interference that violated his First Amendment right to gather the news.

On February 8, Ohio Governor Mike DeWine held a press conference to respond to concerns from the community living nearby the site of the derailment. When DeWine began his remarks, Lambert went live on NewsNation for his 5 pm evening report.
Major General John C. Harris Jr., who at the time was the commanding general for the Ohio National Guard, allegedly "motioned" to Lambert and his videographer to stop the broadcast. While Harris grew angrier, Lambert signed off and mentioned that he was "being ordered to stop his live reporting."
Harris allegedly yelled at Lambert that it was "rude" and a "shitty move" to broadcast during the governor's remarks. However, DeWine later stated, "It has always been my practice that if I'm doing a press conference, someone wants to report out there and they want to be talking back to the people back on channel, whatever, they have every right to do that."

Harris allegedly ignored efforts by fellow officers to deescalate the situation and pushed Lambert in the chest. Lambert insisted he was merely doing his job as a reporter and commented to other officers that he had been assaulted.

Next, Sheriff Brian McLaughlin allegedly instructed Lambert to leave the press conference because he had been "told to shut it down and [he] continued on." After refusing, McLaughlin became angry as well. McLaughlin asked Lambert if he wanted to go to jail for "criminal trespassing." To which Lambert said he was still trying to listen to the press conference and his lawyers would quickly get him out of jail if he was unlawfully arrested.
McLaughlin and a police detective named Daniel Haueter responded that they did not care, and moments later, Lambert was allegedly forced outside the gymnasium, where the press conference was taking place..

Officers allegedly held Lambert's arms and swung him around until he was pinned. They shouted "contradictory commands" to get on his knees and also lay flat on the ground. They yelled at him to get on the ground, when he was already on the ground. They roughly handcuffed Lambert and arrested him.
Lambert was transported to a local jail, the Columbiana County Jail. Police shackled him and made him wear an orange jumpsuit for a mugshot. All of Lambert's belongings were seized. He was criminally charged, and officers placed him in a "small holding cell off the reception area until a representative of NewsNation was able to pay his bond" (about five hours later).
Katie Townsend, the deputy executive director and legal director for RCFP, contended, "These are very serious violations of Mr. Lambert's rights under federal and Ohio law, and we hope the city and county will work proactively to resolve this so that no other journalists find themselves in this situation simply for doing their job."

The incident is one of several incidents this year that have involved attacks on journalists in small town communities or more rural areas of the United States.

A prosecutor in the state of Alabama had a publisher and reporter with Atmore News, a community newspaper, arrested on October 27 for publishing "grand jury evidence" related to an investigation into the potential misuse of COVID relief funds.
On August 11, local police in Marion, Kansas, illegally raided the office of a local community newspaper and the home of 98-year-old co-owner Joan Meyer. Meyer's computer and her router were seized.

Police seized cell phones, computers, the newspaper's file server, and "other equipment unrelated to the scope of their search" from the newspaper's office. The raid left Meyer so distraught that she died the following day.