Press Freedom
North Carolina Judge Convicts Journalists Of 'Trespassing' While Covering Eviction Of Homeless Encampment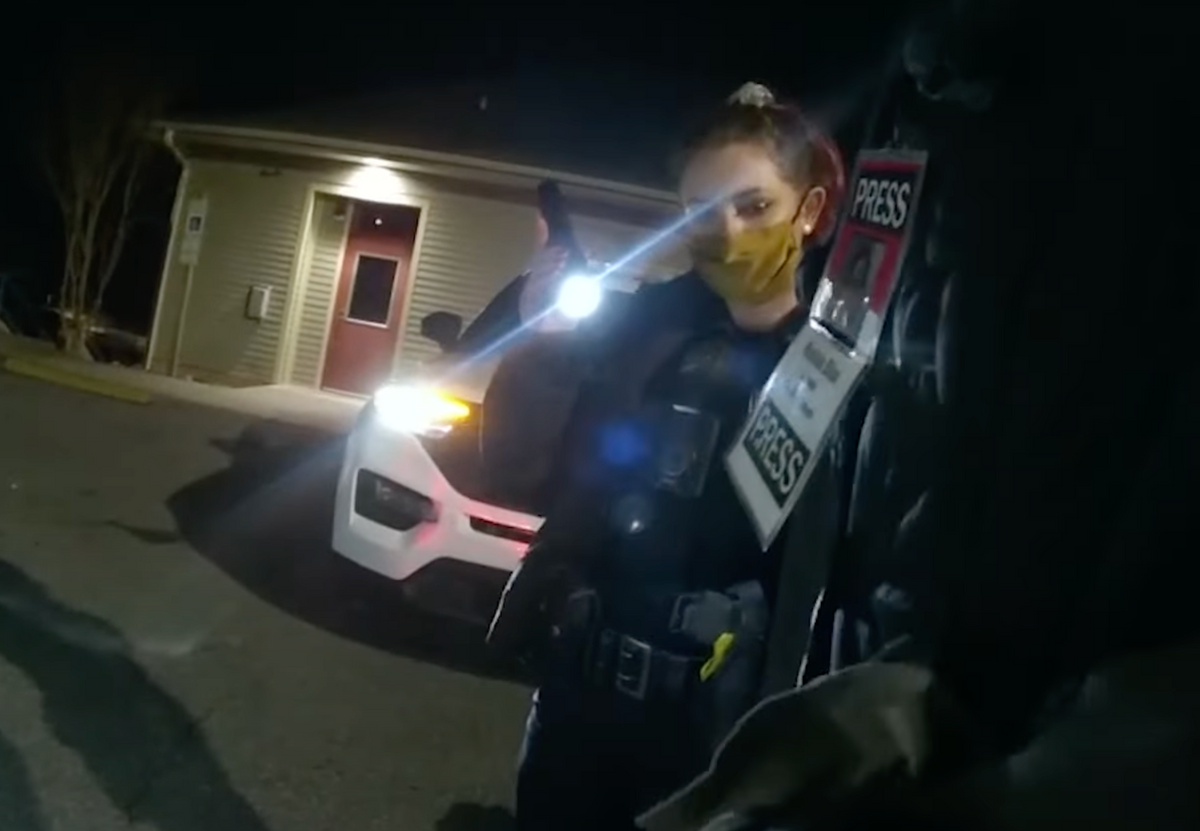 A judge in North Carolina found two journalists with the Asheville Blade guilty of "trespassing" on Christmas in 2021 when they stayed in a public park to cover Asheville police as officers evicted a homeless encampment.

Veronica Coit and Matilda Bliss were "sentenced to pay $25 fines and court costs." Coit received an additional sentence of "one year of unsupervised probation with a 10-day suspended [prison] sentence," according to the Asheville Citizen-Times.

The Asheville Blade reporters immediately appealed the decision by Judge Calvin Hill, and a jury trial was tentatively scheduled for May 1.
"In today's bench trial of Blade journalists Veronica Coit and Matilda Bliss, judge Calvin Hill declared them guilty of trespassing, ignored freedom of press, openly sided with [Asheville Police Department's] claim [that it] can order reporters off public land," the Asheville Blade stated.

Hill, according to the media organization, apparently contended that no evidence had been presented to show that Coit and Bliss were journalists. The prosecutor did not even take this position.
The Asheville Blade is a "leftist local news co-op" that focuses on "hard-hitting journalism, in-depth investigation and sharp views" from Asheville. They are reader-supported (primarily through Patreon) and have been around for more than a decade.

Beginning on December 19, 2021, those in the Asheville community gathered at Aston Park for five evenings to urge the City of Asheville to leave people without any shelter alone in the park after it closed at 10 p.m. They took a stand on Christmas, and police responded by sweeping the encampment and arresting six people, including Coit and Bliss.

All six arrestees were "released from custody on the condition that they do not return to Aston Park," the Asheville Free Press reported.

The American Civil Liberties Union of North Carolina, Freedom of the Press Foundation, Reporters Without Borders, National Press Club, and Committee to Protect Journalists backed Coit and Bliss and urged the City of Asheville to abandon their prosecution.

Body camera footage was released after the groups requested that the Buncombe Superior Court in Asheville make the video public. The footage showed that police had ordered the arrest of Coit and Bliss because they were "videotaping."  

Seth Stern, the advocacy director for Freedom of the Press Foundation, said the footage also showed that the Asheville Blade reporters had "recorded the sweep from a distance and did not obstruct police."
In the released footage, Asheville Police Department Lieutenant Mike McClanahan asks Bliss if they are leaving. "Clearly, I have marked identification as press," Bliss responds. To which the police lieutenant replies, "Clearly, you are trespassing."

Coit is singled out by officers similarly. They tell police they are "covering a story" and identify themselves as press.

"These two journalists were serving the public interest by documenting this event, and their presence is protected by the First Amendment," stated Clayton Weimers, the executive director of the United States Bureau for Reporters Without Borders. "The charges against them for trespassing are a poor attempt by local officials to intimidate the press and public from being able to monitor law enforcement."

Weimers spoke to Asheville Citizen-Times and highlighted the fact that more and more local governments in the U.S. are passing ordinances to prohibit reporting from homeless encampments.

"I think this is the first guilty verdict in one of these cases, and I hate to think about what kind of precedent we're setting here."

The trial was the fourth trial since 2018 against journalists for "offenses allegedly committed while gathering and reporting news," according to the Freedom of the Press Foundation's U.S. Press Freedom Tracker.

"Bliss and Coit were never accused of harming or obstructing police or anyone and it's ridiculous the case even got to this point," Stern declared after the verdict. "Asheville's crackdown on free speech doesn't end with journalists—the same prosecutors are trying mutual aid workers for 'felony littering.' Seriously."

"Every reporter, everyone who's ever criticized any official or cop should find the push to punish our journalists chilling," the Asheville Blade concluded. "We remain determined to keep fighting."