State Department
Israel's Assault on Gaza: Growing Dissent At the US State Department
Two whistleblowers, who previously resigned from positions at the State Department, share their reactions to this dissent.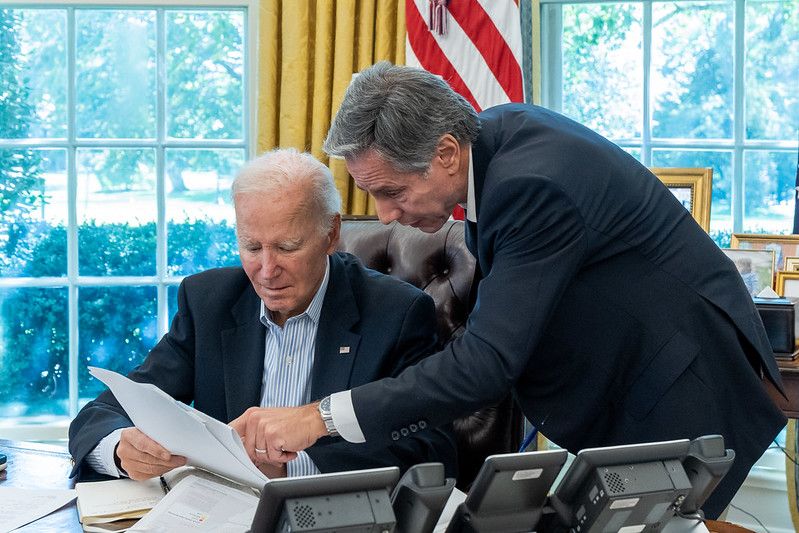 Support independent journalism on whistleblowers, government secrecy, and press freedom-related issues. Become a subscriber of The Dissenter.

Despite the potential loss of a career, numerous diplomats at the United States State Department and over a hundred congressional staffers have spoken out against President Joe Biden and his administration's unwavering support for the Israeli military's assault on Gaza.

A "dissent memo" was distributed by several mid-ranked and lower-ranking State Department staff. Several hundred employees at the U.S. Agency for International Development (USAID) circulated a letter as well. Both the memo and letter demanded that the U.S. government join calls for a ceasefire.

The most remarkable example of dissent came when Josh Paul resigned on October 18 in protest against U.S. arms transfers to Israel. He had been the director of congressional and public affairs at the State Department's Bureau of Political-Military Affairs for 11 years.

Two whistleblowers, who previously resigned from positions at the State Department, shared their reactions to the brewing opposition.
Ann Wright resigned from the State Department days before the U.S. military invaded Iraq in March 2003. She became a prominent antiwar voice, who organized protests with CODEPINK. Recently, Wright traveled to Istanbul for the "Freedom Convoy for Palestine."

"The people of conscience in our government, Josh Paul and those who signed the dissent letter for challenging the Biden administration's dangerous Israel policies, are true patriots for challenging policies they know will have terrible consequences for the United States," Wright told The Dissenter.

"I know the challenges of making up one's mind to resign on principle—giving up one's job and coming in for criticism from colleagues, supervisors, friends, family and the media," Wright added. "While all of that happened, I am so glad I resigned 20 years ago as an overwhelming number of people have told me, my resignation and the resignations of Brady Kiesling and John Brown before me, gave them hope that not everyone in the U.S. government agreed with [President George W. Bush's] policies."
No More Moral Bargaining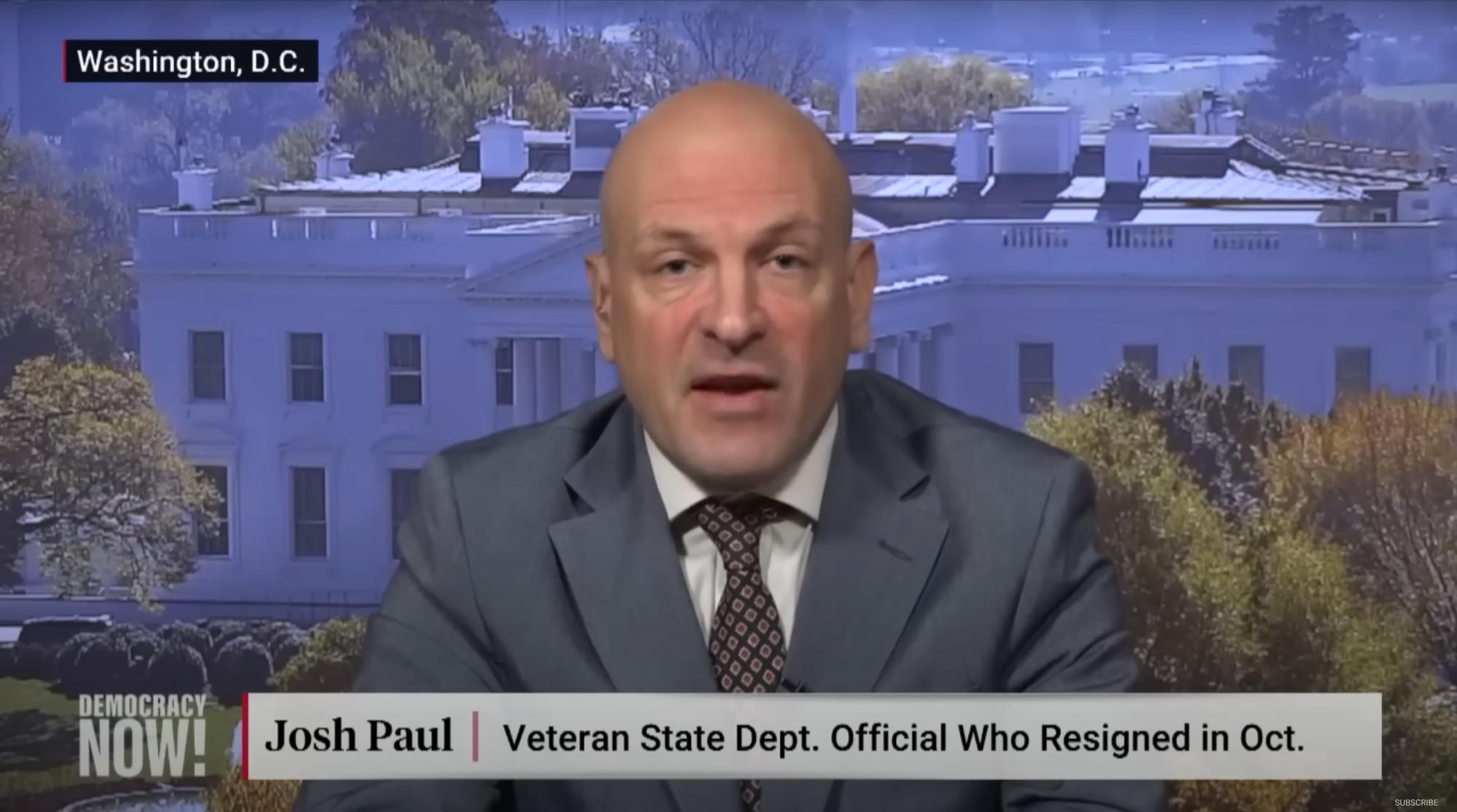 Paul's resignation garnered significant media interest. He appeared on multiple news programs. On November 3, on "Democracy Now," he said he resigned because he believed "U.S.-provided arms should not be used to massacre civilians."

He contended that the provision of arms to the Israeli government prior to Hamas' attack on October 7 had not led to peace or security for Israelis or Palestinians. "Yet when I tried to raise both of these concerns with State Department leadership, there was no appetite for discussion, no opportunity to look at any of the potential arms sales and raise concerns about them." Instead, senior officials issued a "directive to move forward as quickly as possible" on arms transfers.

Matthew Hoh, a former State Department official who resigned in protest against the U.S. war in Afghanistan in 2009, also praised Paul. He acknowledged that a lot of people resign when they reach the "culmination of many, many years" of trying to "ameliorate outcomes" so that something bad does not become worse.

"In a lot of our cases," Hoh said to The Dissenter, "you just reach the point where you can no longer lie to yourself. You can no longer make excuses. You can no longer rationalize." It is no longer possible to continue to make a moral bargain.

Amy Goodman, host of "Democracy Now," asked Paul what the "last straw" was for him. She noted that Paul had presumably been involved in weapons sales to Saudi Arabia, even after it was concluded that Crown Prince Mohammed bin Salman had been involved in the murder of journalist Jamal Khashoggi. "Why Israel?"

"I think what made the difference for me here is that for all of those previous instances, even under [President Donald Trump's] administration," Paul replied. "There was always room for discussion and debate and the ability to mitigate some of the worst possible outcomes, to delay sales until crises had passed, so that they weren't contributing immediately into a humanitarian crisis, to work with Congress and be confident that once the policy debate had ended in the State Department, there would be a congressional piece to it, too."
In Paul's view, Congress had previously taken appropriate stances on human rights and arms sales. What is different with Israel is there has been no space for debate. And there has been "no congressional appetite or willingness to have debate."

Hoh suggested, the "golden handcuffs" and other excuses were no longer enough to discourage Paul. The loss of his career probably became acceptable because the "moral stress" that he was going through was just so heavy, from a psychological, emotional, and spiritual standpoint.

Paul mentioned that he is unsure how he will ensure that he has health care coverage now that he has resigned. If the U.S. had single-payer health care instead of employer-based health care, then Paul contended that more government employees might be willing to "stand up on principle."

It was only a day or two after Paul resigned that he was on news programs discussing U.S. policy toward Israel and articulating his reasons for dissent. That required a certain composure and level of fortitude that some do not have.

"I was so morally and intellectually broken that the thought of doing something like that just wasn't even something in my head," Hoh recalled. "I still had some kind of perverse sense of loyalty to a degree. I mean, so much of this, too, is that when you do this you're leaving the group. You're leaving the bubble."

Whistleblowers or dissenters tend to deal with the feel that they are betraying their colleagues. Hoh shared that he is still afraid that someone he worked with will email and call him a traitor, even though that has happened zero times since 2009.
State Department Employees Told Not To 'Expect To Influence U.S. Policy On Israel-Palestine'
Eventually, in the weeks that followed, Hoh went on news programs. It was a good choice because Hoh heard from officials within President Barack Obama's administration that what he was saying about the war in Afghanistan was helping officials.

It does not seem like the Biden White House and State Department under Secretary of State Antony Blinken are open to changing policy. Nor do they want to seize upon the space for change created by dissent. Instead, they are perturbed by any officials who may go public with their opposition.

Huffington Post reported on October 26 that Blinken and "some of his lieutenants" had "listening sessions and town hall meetings" with staffers to discuss the assault on Gaza. But managers informed staffers that "they should not expect to influence U.S. policy on Israel-Palestine regardless of their national security chops."

Blinken's response to internal dissent has been to plead with the Israeli government to have more pauses in the bombing. "We don't want to stop you, but help us help you get more time," Blinken privately told the Israeli government, according to one U.S. and two Israeli officials quoted by Axios.

It was not until two weeks after Israeli forces started bombing Gaza in retaliation for Hamas' attack on October 7 that a task force to prevent atrocities was convened. "Nearly 4,000 people, including more than 1,500 children, had been killed in Gaza by then and Israel had cut off the territory from water, food, fuel and electricity in a move United Nations officials described as "collective punishment," Huffington Post recalled.

On top of that, the State Department's task force on the war in Gaza did not initially have seats for diplomats in the bureau that focuses on democracy, human rights, and labor. Nor did it have seats for the Bureau of Population, Refugees, and Migration, which is in charge of handling U.S. relations "with the U.N. agency responsible for much of Gaza's economy."

Paul described that as "either a stunning oversight" or an "intentional disregard for the humanity of Palestinian civilians in Gaza."
Setting a Horrible Precedent
The "dissent memo" reportedly shared within the State Department directly confronted this stifling dynamic.

"We must publicly criticize Israel's violations of international norms such as failure to limit offensive operations to legitimate military targets," a draft of the memo declared. "When Israel supports settler violence and illegal land seizures or employs excessive use of force against Palestinians, we must communicate publicly that this goes against our American values so that Israel does not act with impunity."

Additionally, Paul blew the whistle on the supplemental request for $14.4 billion for Israel that would "remove the requirement to notify Congress of any arms sales conducted under that funding."

From Paul's "Democracy Now" interview:
Typically, there is a process where, for any major defense sale, Congress is notified of it. And there's actually a process prior to the formal notification where Congress gets to ask questions, poke, prod, delay, and then, if it wishes to oppose the sale, can raise a joint resolution of disapproval on the floor. What this proposal would do is, essentially, destroy all of that, remove all of that, remove that congressional oversight, remove that congressional ability to object. It is unprecedented. I have never seen anything like it. And I cannot imagine that the committees of jurisdiction are viewing it very favorably, because it is just such a damaging approach that also sets horrible precedent for other countries with whom future administrations may decide they don't want Congress to be involved.
As of publication, the death toll in Gaza has topped 10,000. Each day Israel's assault kills around 420 Palestinian children.

A leaked document from October 13 also suggests that the Israeli government is not only trying to defeat Hamas in Gaza. Officials in the government support expelling 2.3 million Palestinians from Gaza to Egypt as an option that would "yield positive, long-term strategic outcomes for Israel." This would be ethnic cleansing.

In defending their brutal retaliation, the New York Times reported that "Israeli officials referred to how the United States and other allied powers resorted to devastating bombings in Germany and Japan during World War II — including the dropping of the two atomic [bombs] in Hiroshima and Nagasaki — to try to defeat those countries."

The Japanese government was ready to surrender in 1945, but President Harry Truman and U.S. military commanders still nuked Hiroshima and Nagasaki. Anywhere from 125,000 to 225,000 people were killed.

Carpet bombing of Dresden resulted in the deaths of more than 25,000 people. How many Palestinians in total does the Israeli government expect to kill (and with U.S. weapons)?

Wright concluded, "The protection of Israeli crimes by every [presidential] administration, Democratic and Republican, is a dangerous policy for the United States."

"The U.S. policy of going along with genocidal actions of Israel threatens U.S. national security instead of enhancing it."