Press Freedom
Consortium News Sues NewsGuard, US Government For Alleged Defamation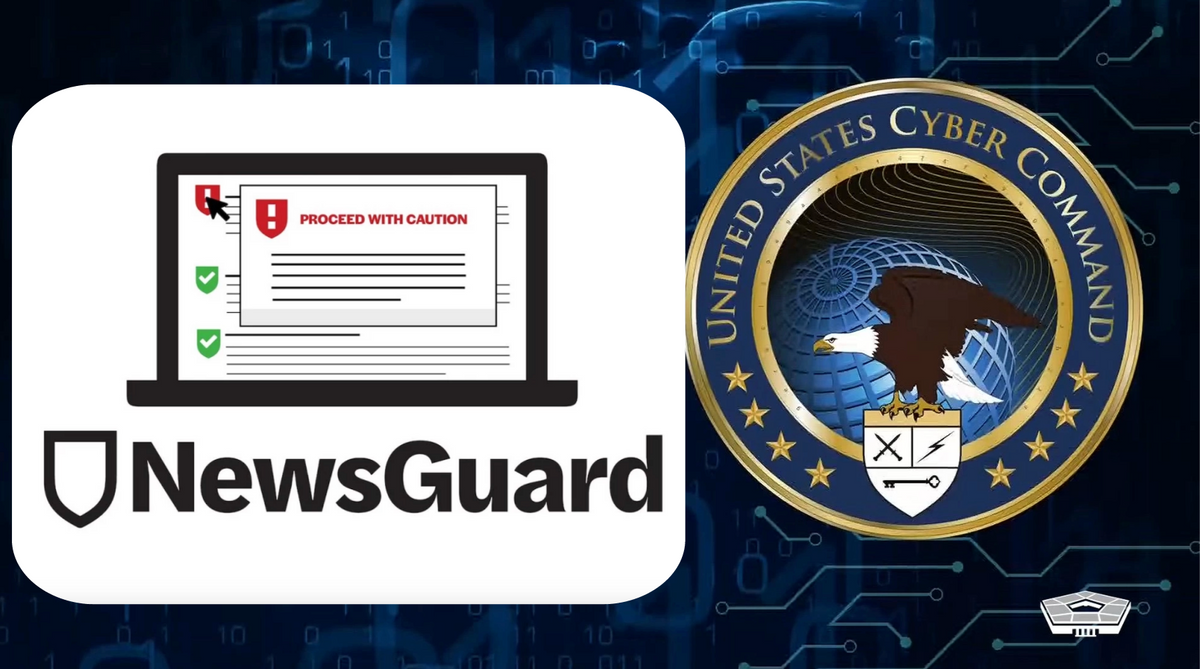 Consortium News sued the United States government and NewsGuard Technologies for allegedly defaming the independent media organization and violating the organization's First Amendment rights.

A complaint [PDF] filed in the U.S. District Court of the Southern District of New York claims that the Pentagon's U.S. Cyber Command and NewsGuard are "carrying out a governmental program" under a contract known as "Misinformation Fingerprints" that involves the public labeling, targeting, and stigmatizing of news organizations that "differ or dissent from U.S. policy in connection with Russia or Ukraine."

Media organizations that differ with U.S. official policy are labeled not "trustworthy," purveyors of "false content," or treated as "Russian propagandists" that are "anti-U.S."
To remedy the alleged defamation and attack on freedom of the press, Consortium News seeks $13.6 million in "punitive" damages—twice the capital raised by NewsGuard in its push for investors.

Consortium News also requests an injunction to bar NewsGuard from continuing their practice of censorship that involves affixing false "nutrition labels" to their published articles.
"The First Amendment rights of all American media are threatened by this arrangement with the Defense Department that defames and threatens to abridge the speech of U.S. media groups," declared Bruce Afran, an attorney representing Consortium News.

Afran added, "When media groups such as Consortium News are condemned by the government as 'anti-U.S.' and are accused of publishing 'false content' because they disagree with U.S. policies, the result is self-censorship and destruction of the public debate intended by the First Amendment."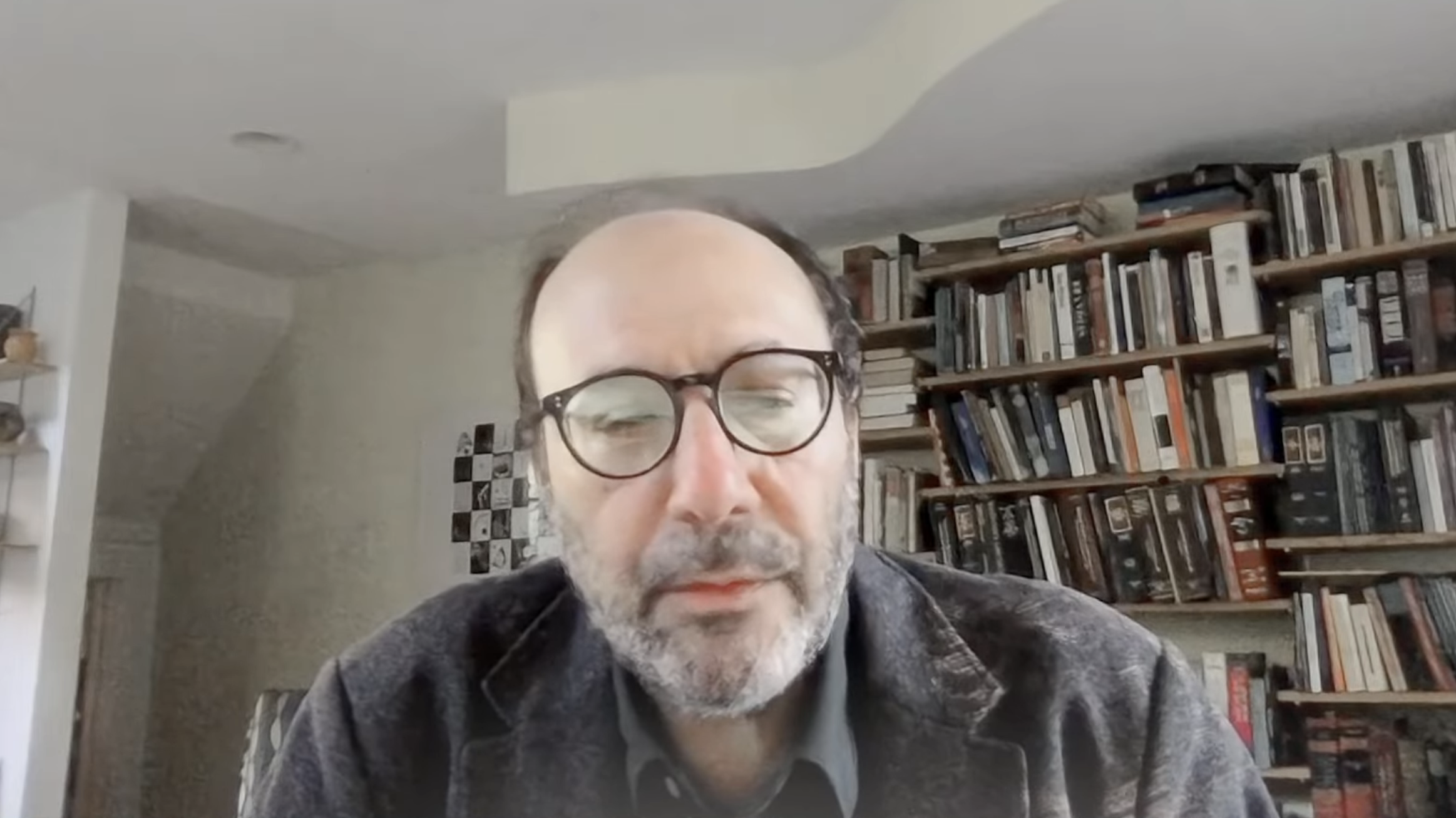 According to the complaint, the Defense Department granted NewsGuard a nearly $750,000 contract for tracking "misinformation" in September 2021.
"Our work for the Pentagon's Cyber Command is focused on the identification and analysis of information operations targeting the US and its allies conducted by hostile governments, including Russia and China," NewsGuard co-CEO Gordon Crovitz acknowledged in March 2023. "Our analysts alert officials in the U.S. and in other democracies, including Ukraine, about new false narratives targeting America and its allies, and we provide an understanding of how this disinformation spreads online."
NewsGuard's board of directors as well as its advisory board include former Homeland Security director Tom Ridge, former CIA and NSA director Michael Hayden, and former NATO secretary general Anders Fogh Rasmussen.
While Crovitz and the startup's other CEO Steven Brill are veterans of the news media, Consortium News contends that NewsGuard is far from a "journalistic endeavor." Its "reviewers" contact organizations they intend to "target" and act as if they are "reporters." However, at any given time, they are effectively collecting intelligence that will be shared with Cybercom involving media organizations that supposedly spread Russian "misinformation."

If NewsGuard takes issue with a handful of articles from a media organization, then every article published by that entity will have a "warning label." It does not matter if the vast majority of this content has not been disputed by the company.

The company has only disputed six articles out of more than 20,000 articles, according to Consortium News. When subscribers use NewsGuard's browser tool, all articles on the site carry warnings.

More specifically, Consortium News asserts that NewsGuard's defamation began on August 11, 2022, when they attached the following "red flag" (now a blue flag) and warning described the organization as a "website that covers international politics from a left-wing, anti-U.S. perspective that has published false claims about the Ukraine-Russia war and other international conflicts."
NewsGuard's reviews involve attaching "nutrition labels" that tell subscribers of their service that Consortium News "repeatedly" publishes "false content," refuses to "correct or clarify errors," and declines to "gather and present information responsibly."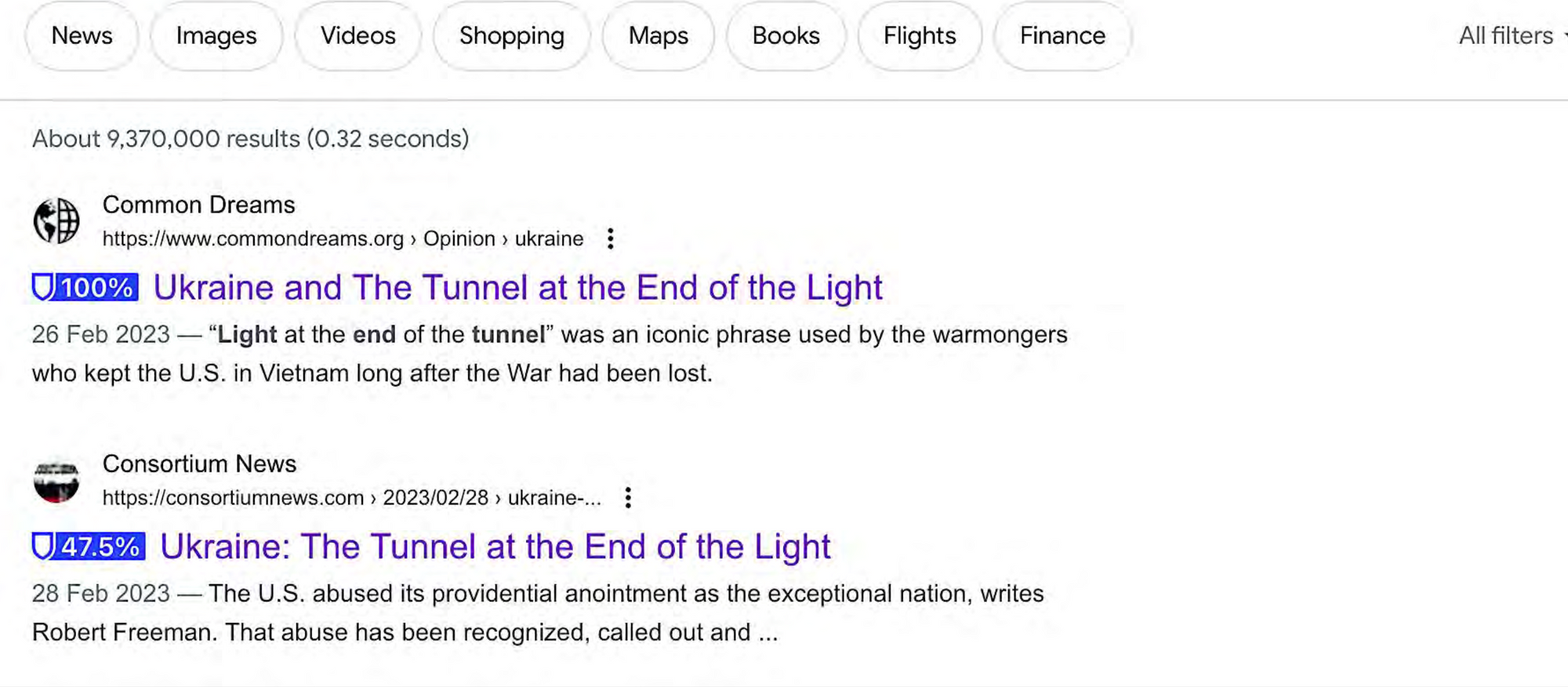 Additionally, the label is affixed to content that Consortium News republishes to their website. That means that an article published by Common Dreams on the war in Ukraine can have a 100% rating on Common Dreams but a 47.5% rating when the "identical text" is posted to Consortium News.
Before the "nutrition labels" first appeared on Consortium News' articles, NewsGuard employee Zachary Fishman contacted the media organization to conduct a "review" of the site's "publication of false content." For example, Fishman singled out a February 2022 article headlined, "Ukraine: Guides to Reflection" and called attention to this portion of the article.
Hence, the inflation of Russian behavior in Ukraine (where Washington organized a coup against a democratically elected government because we disliked its political complexion) and Syria (where Russia's intervention is at the request of the established government while the U.S. commitment to occupying parts of it has no legal basis).
NewsGuard took issue with holding the U.S. government responsible for the role that U.S. officials played in the coup in Ukraine in 2014.

Consortium News editor-in-chief Joe Lauria showed NewsGuard that many of the details questioned by NewsGuard could be found in reports published by BBC, The Guardian, Christian Science Monitor, and The Progressive. But those sites do not have labels that cast doubt on the veracity of their journalism.

Such false claims about Consortium News, as the complaint asserts, violate the media organization's First Amendment rights because NewsGuard is working jointly with Cybercom and receives payment to "punish or discourage speech that is contrary to U.S. policy positions."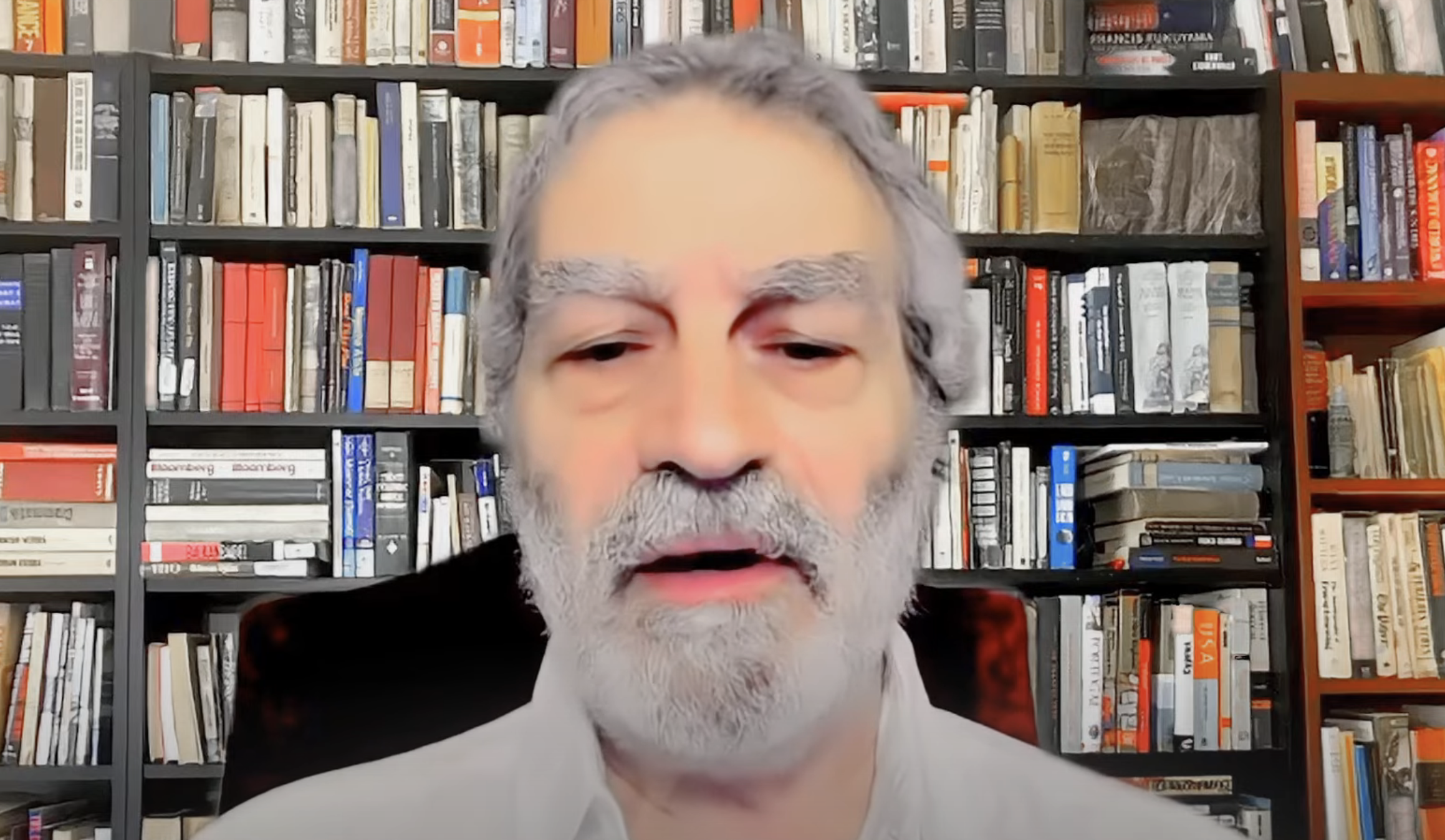 NewsGuard has an initiative with public libraries and libraries of public universities. On the company's website, they highlight a "case study" from Cienega High School in Vail, Arizona, which is a public school.

"With NewsGuard, the information is there for the students," said Chris Salvagio, a Cienega High School teacher [PDF]. "Kids don't really know the meaning of credibility and transparency, so having NewsGuard's criteria for each listed in a way that's accessible and easy to use helps, too, by helping us come up with a clear definition of what a reliable source is. NewsGuard really helped me buttress the things I've already taught before."
In January 2019, the New York Times published a profile of the company that described its plans to fight "fake news." Crovitz seemed to pose the type of government involvement in news labeling that Cybercom has encouraged his company to perform.

"We'd be very uncomfortable if the government were mandating anything with regard to news," Crovitz declared, when asked if they wanted to see an equivalent to Food and Drug Administration (FDA) labeling for media. "That would violate free speech values. You have the First Amendment."

In May 2022, PayPal banned Consortium News from using their service but provided little to no explanation for their decision. It is unclear to what extent NewsGuard's labeling may have influenced PayPal's censorious action.
Finally, NewsGuard has also abused its influence over journalism and fact-checking online by labeling WikiLeaks with a red warning.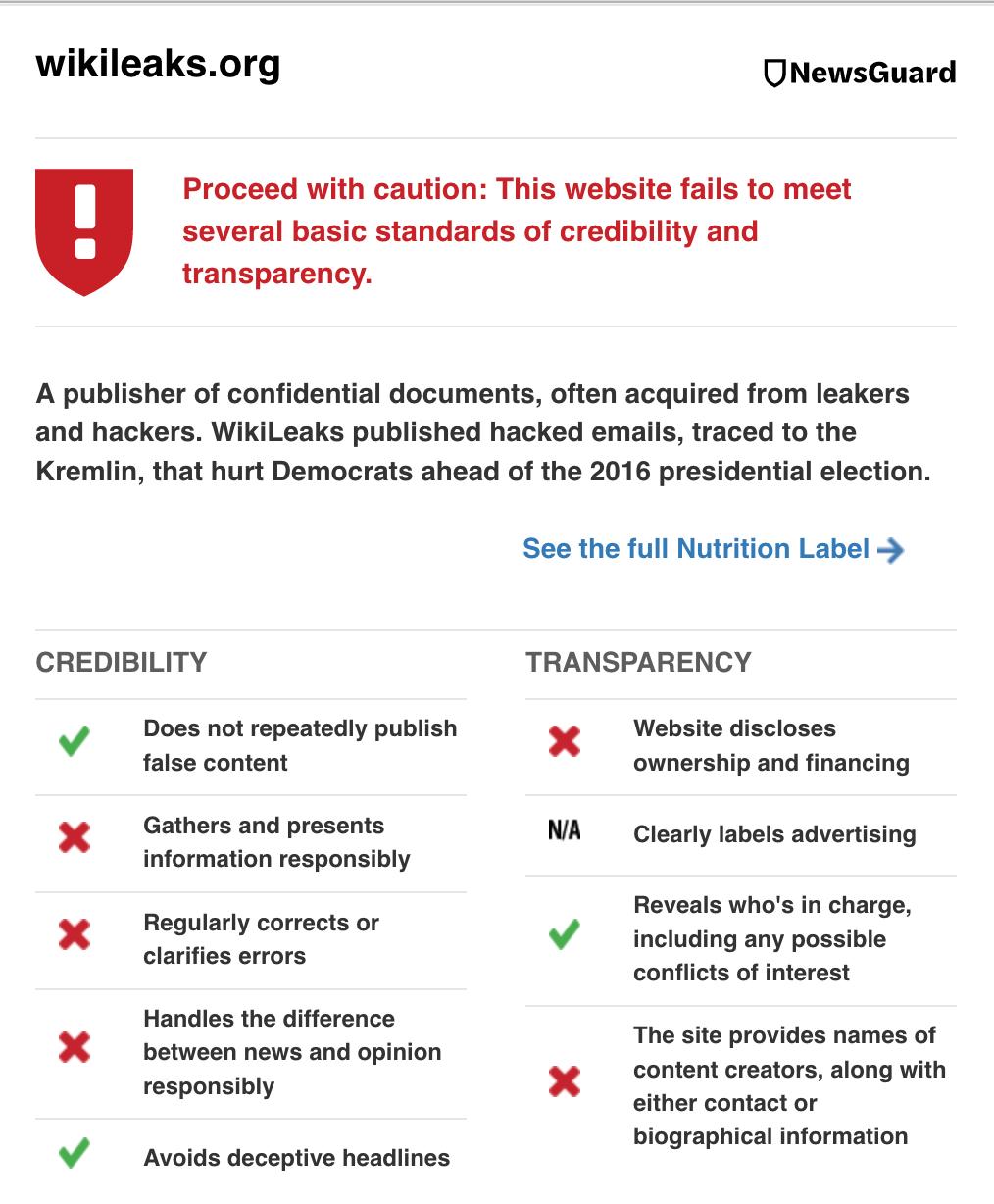 "This website fails to meet several basic standards of credibility and transparency," NewsGuard deceitfully stated. A "nutrition label" described WikiLeaks as a "publisher of confidential documents, often acquired from leakers and hackers. WikiLeaks published hacked emails, traced to the Kremlin, that hurt Democrats ahead of the 2016 presidential election."

NewsGuard acknowledged that WikiLeaks did not "repeatedly publish false content" and, in fact, revealed who is in charge, including "any possible conflicts of interest." It did not publish "deceptive headlines."

Yet the tracking tool maintained the site failed to gather and present information responsibly and did not handle the "difference between news and opinion responsibly," which are common responses from the US national security state to undermine the credibility of independent media organizations that challenge dominant narratives.
While the U.S. Justice Department prosecutes WikiLeaks founder Julian Assange (a case that Consortium News has extensively covered), NewsGuard seeks to scare students, academics, and the general public into avoiding the transparency website as a resource, even though news media like the Washington Post and New York Times have frequently cited documents from WikiLeaks in their coverage of U.S. foreign policy.

Full press conference with Bruce Afran and Joe Lauria on the new lawsuit: