Patel Responsible For Assange's 'Slow-Motion Execution' If Extradited, Doctors Warn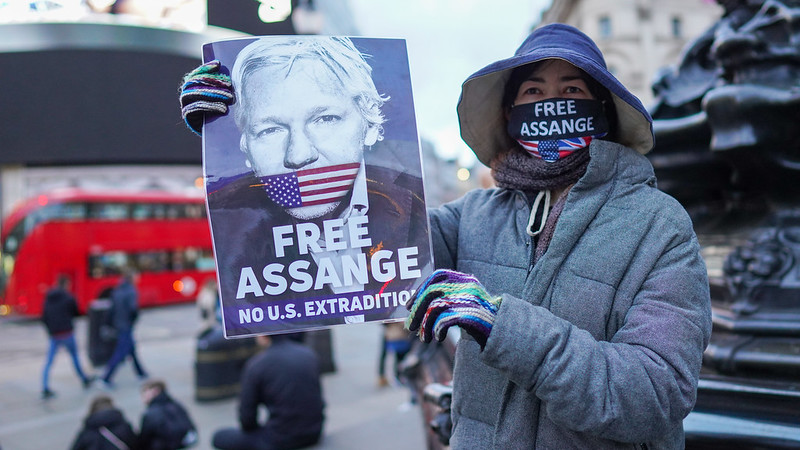 A coalition of over 300 doctors warned UK Home Secretary Priti Patel that she may be responsible for the "slow-motion execution" of WikiLeaks founder Julian Assange if her office approves the United States government's extradition request.

Patel has until June 19, which is ten years after Assange entered Ecuador's embassy in London and sought political asylum, to decide whether to approve the extradition.

Assange faces 18 charges brought against him by the US Justice Department, 17 of which are under the Espionage Act. All the charges relate to documents WikiLeaks released in 2010 and 2011, which were provided by US Army whistleblower Chelsea Manning.

Doctors for Assange is an international coalition of medical doctors, psychiatrists, and psychologists who have spoken up for Assange because of the toll the US government's prosecution has taken on his health. Many of the doctors are from the UK and Australia, which is Assange's home country.
The doctors sent a letter to Patel on June 10, 2022, ahead of the Home Office's extradition decision.

"Should [Assange] come to harm in the US," the group contends Patel "will be left holding the responsibility for that negligent outcome." They add, "The extradition of a person with such compromised health, moreover, is medically and ethically unacceptable."
As the doctors recall, Assange's health has deteriorated in UK custody at Belmarsh prison, where he's been detained since April 11, 2019. "In October 2021, Mr. Assange suffered a 'mini-stroke.'"

"This dangerous deterioration of Mr Assange's health underscores the medical concern that the chronic stress caused by his harsh prison conditions, as well as his justified fear of the conditions that he would face in the case of extradition, leaves Mr. Assange vulnerable to cardiovascular events," the doctors add. "This dramatic deterioration of Mr Assange's health has not yet been considered in his extradition proceedings."

The doctors argue the basis for accepting US "assurances" was based upon "outdated medical information," which should render the assurances "obsolete."

"Under conditions in which the UK legal system has failed to take Mr Assange's current health status into account, no valid decision to approve his extradition may be made, by you, or anyone else."
In the doctors' first letter to Patel on November 22, 2019, they outlined several "serious concerns" related to his health.

"Despite the urgent subject matter of our letter, which followed the assessment of the UN Special Rapporteur on Torture and two medical experts that Mr Assange, a journalist and a publisher, was a victim of 'prolonged psychological torture,'" Patel did not respond.

However, Patel's office put out a press statement: "The allegations Mr. Assange was subjected to torture are unfounded and wholly false. The UK is committed to upholding the rule of law, and ensuring that no one is ever above it."

The doctors insist Patel's "denial of the cruel, inhuman treatment inflicted on Mr. Assange was then, and is even more so now, irreconcilable with the reality of the situation, as illustrated by the statements of numerous human rights experts and organizations, concerned politicians, and advocates of press freedom and the rule of law across the globe."
On May 1, 2019, Assange had a hearing at the Southwark Crown Court, where was sentenced to 50 weeks in prison for "bail infringement" in 2012. He was reportedly suffering from "moderate to severe depression."

As UN special rapporteur on torture, Nils Melzer said the UK government had shown "outright contempt" for Assange's rights." He appealed in 2019 to the government to take Assange's deteriorating health seriously. But as Melzer noted in November of that year, the UK did not take any measures to investigate, prevent, or redress the "inhumane situation."

The June letter reminds Patel of the harsh prison conditions Assange could face in a US jail or prison and declare, "Do not make yourself, your government, and your country complicit in the slow-motion execution of this award-winning journalist, arguably the foremost publisher of our time. Do not extradite Julian Assange; free him."

***

Assange meets all the qualifications of a political prisoner. In a country like Russia or China, the UK government would have scrambled to save him from further cruelty and harm long, long ago. But because Assange is in UK custody, and wanted for extradition by the UK's top diplomatic partner and ally, all the UK government does is shrug.

The UK government, like many Western countries, sets one standard for human rights for adversarial powers and a separate lower standard for human rights for their government. UK officials are free to follow their lower standard. And if that becomes too inconvenient, they may violate their lower standard too.