Press Freedom
NYPD Arrest Photojournalist Who Was Covering Their Response To 'Justice For Jordan Neely' Vigil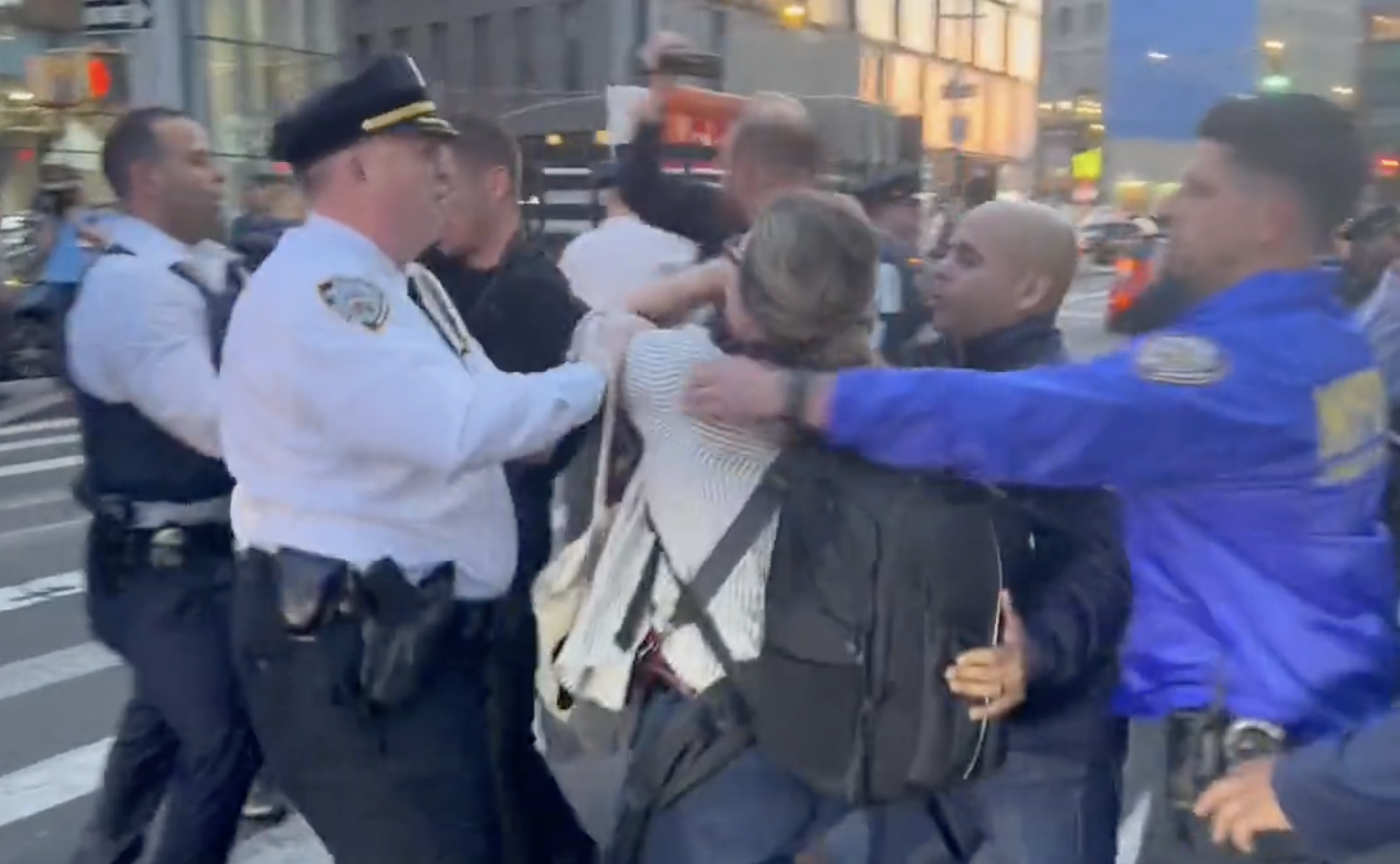 The following article was made possible by paid subscribers. Support independent journalism on press freedom and whistleblowers. Here's a 30-day free trial for new subscribers.

Independent photojournalist Stephanie Keith, who was covering the New York Police Department's response to a planned "Justice for Jordan Neely" vigil, was arrested by police on May 8, 2023.

Jordan Neely, a Black homeless man, was on a subway train on May 1 when a Marine veteran named Daniel Penny put Neely in a chokehold and killed him. Penny was not charged with committing any crime.
The death of Neely occurred at the Broadway-Lafayette subway station, where demonstrators gathered. However, the presence of police on the subway platform made it nearly impossible to hold a vigil.

Above the subway station, the NYPD's Strategic Response Group (SRG) that responds to "citywide mobilizations" singled out Stephanie Keith, who has worked with Bloomberg, Getty Images, Reuters, and the New York Times.
Keith described after her arrest. "There was a call for a vigil for Jordan Neely at the Broadway-Lafayette stop on the F train. Some people chose to chant and commune on the subway platform and some to speak out on street level."

"The journalists on the subway platform heard arrests were going down so we all ran upstairs to witness several ongoing arrests. Later, I was arrested! I couldn't believe it, I was flabbergasted."

"For some reason, they chose me from that situation," Keith added.
As video taken by Chicana organizer Isabelle Leyva showed, a crowd on the corner near the subway station spilled out on to the street. The police tried to move people out of the street, including a crosswalk, so that car traffic could keep moving. But the police surrounding people seemed to make it harder for anyone to move in any direction.

NYPD Chief of Patrol John Chell spotted Keith in the crosswalk. Chell grabbed Keith by the arm and pulled her toward the corner. He shouted, "Lock her up! Lock her up! Lock! Her! Up!"

Officers clad in blue jackets that designated them as part of the NYPD's Community Affairs Unit surrounded Keith and escorted her to a police van for arrest.

While officers apprehended her, Keith shouted, "I'm a press photographer!" Police replied, "You're not, you're arrested."
Keith was taken to a police station, along with nearly a dozen other arrestees, and released later that evening around 11 pm.
Members of the National Press Photographers Association and the New York Press Photographers Association made calls to police demanding her immediate release.
According to the United States Press Freedom Tracker, Keith was the third journalist to be arrested in 2023.
Keith was photographing a young Black man on a street meridian, who the police arrested. He had blood running down his face.
Josh Pacheco, who is also a photojournalist, shared video from around the same time that Keith was arrested. It showed police shoving them and other journalists. They were threatened with arrest as officers pushed the group.

After Keith was arrested, the police pulled out a long-range acoustic device (LRAD) that broadcast an announcement to people in the area. "This is the New York City Police Department. You unlawfully walking the roadway. I am ordering you to go back on the sidewalk now. If you do so voluntarily, no charges will be placed against you. If you remain in the roadway and refuse to use the available sidewalk, you will be subject to arrest."
The device apparently was not broadcasting such a notification when officers grabbed Keith and arrested her.

In another example of harassment of the press, Talia Jane, an independent reporter, said they showed their press credentials to the NYPD's deputy commissioner of public information so they could cover a press conference convened by the NYPD after the vigil. But shortly after NYPD personnel reconsidered and ordered Jane to leave.

Jane watched an NBC News cameraperson enter as the NYPD denied them access to the briefing.

Several outside the NYPD's police station to provide jail support for arrestees were reportedly harassed by higher-ranking NYPD officers in white shirts. At one point, according to Jane, the officers "rushed" the sidewalk and detained a person. Cops then released that individual.

The NYPD faces a significant lawsuit from New York Attorney General Letitia James, who sued the police department in January 2021. It alleges that police have engaged in a "pattern of suppressing protests" for decades in violation of the public's First Amendment right to assemble.

Ali Winston reported, "James's complaint encompasses the NYPD's response to Occupy Wall Street in 2011, the protests against the 2004 Republican National Convention in New York City, and the antiwar movement of the early aughts."