Immigrant Detention Whistleblower Sues Private Prison Corporation For Allegedly Violating Her First Amendment Rights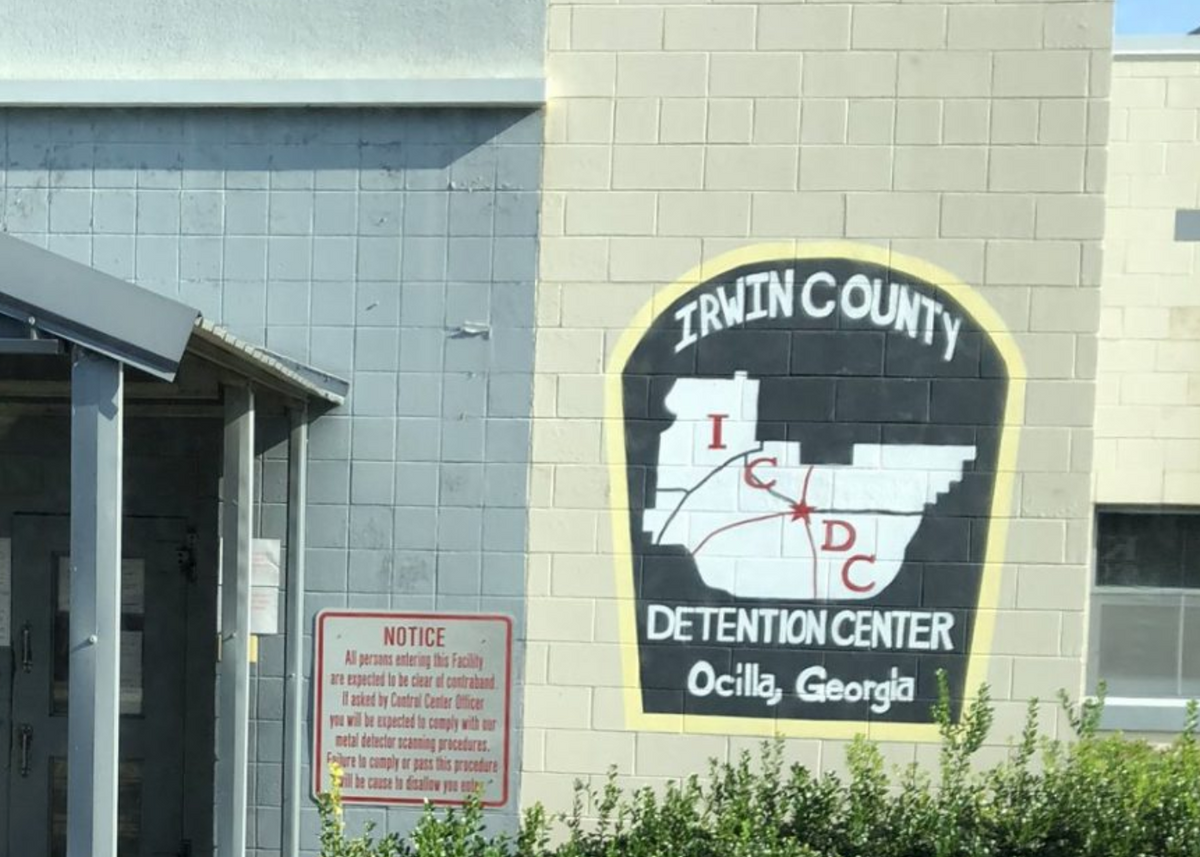 The following article was produced for paid subscribers . It was unlocked on January 13 for the public. Become a monthly subscriber.

A Black licensed practical nurse who worked at the Irwin County Detention Center (ICDC) in Georgia has sued LaSalle Corrections, a Homeland Security Department (DHS) contractor and prison firm that was responsible for abuse and neglect of immigrant detainees.

Dawn Wooten alleges [PDF] that her First Amendment rights were violated when she was fired by LaSalle Corrections after blowing the whistle on detainee abuse, which occurred as a result of the COVID-19 pandemic. She also played a critical role in exposing a doctor who subjected detainees to invasive and unnecessary gynecological procedures.

In May 2021, DHS severed its contract with LaSalle Corrections and removed all immigrant detainees from the facility.

Wooten claims she was "reprimanded and demoted to non-shift part-time service in July 2020." She then filed a complaint with the inspector general's office for DHS in September that outlined the alleged retaliation that she had endured as a result of her opposition to detainee abuse.

Throughout September, Wooten's whistleblowing was covered in the press. The New York Times, Washington Post, Wall Street Journal, CBS News, CNN, Fox News, and MSNBC, etc, all covered her allegations against LaSalle Corrections. The Intercept published a two-part exclusive that featured an interview with her.
Wooten was not given a single hour of work after July, and in December 2020, she accepted that LaSalle Corrections had fired her. She turned her focus to detainee rights activism.
The effect of LaSalle Corrections' alleged retaliation has been devastating for Wooten. She told the Guardian in October 2022, "I am on antidepressants, at one time I was suicidal, couldn't pay bills, still can't pay bills, my whole nursing career just plummeted."
Wooten cannot find employment as a nurse. She cannot afford birthday or Christmas gifts for her children. "I'm back on food stamps, I'm back on welfare, I'm back on Medicaid, I'm back trying to figure out how I'm going to make ends meet."

Meanwhile, Wooten's whistleblowing and public advocacy contributed to investigations by the Justice Department, Senate Judiciary Committee, the House of Representatives Homeland Security Committee, the House Oversight and Reform Committee, and the Senate Homeland Security and Governmental Affairs Committee's Permanent Subcommittee on Investigations.
Senator Jon Ossoff, chair of the permanent subcommittee on investigations, helped lead an 18-month investigation that uncovered ICE medical abuse against dozens of women.

While the investigation did not confirm Wooten's most startling allegation—that Dr. Mahendra Amin was performing hysterectomies at unusually high rates, it still found evidence of disturbing acts that LaSalle Corrections and ICE allowed Amin to commit against detainees.

"Amin accounted for roughly 6.5 percent of total OB-GYN visits among all ICE detainees in the same time period," according to the subcommittee's report. "However, he performed nearly one-third of certain OB-GYN procedures on ICE detainees across the country between 2017 and 2020 and more than 90 percent of some key procedures."
"We found that the relevant provider [Amin] had been sued by the federal government and the state government for excessive and unnecessary billing practices. We found that he'd been dropped by a major insurer for excessive malpractice claims. We found that he was not board certified," Ossoff declared during a subcommittee hearing.

Yet ICE contracted Amin to perform gynecological procedures on detainees in their custody.

The lawsuit states, "Multiple immigrant women expressed concerns to plaintiff [Wooten] that they had undergone invasive gynecological procedures off-site to which they did not knowingly consent and did not fully understand why the procedures had been performed, and asked plaintiff for information about the procedures. Plaintiff confirmed by reviewing the charts of the immigrant women that indeed high rates of gynecological procedures were being performed by an outside medical provider on detained women at ICDC."

When Wooten raised the issue of high rates of gynecological procedures with ICDC Director of Nursing Shanise Bell and a fellow nurse, that nurse allegedly instructed her "not to touch that."
In March 2020, as the COVID pandemic shut down the United States and much of the world, detainees reported virus symptoms. They requested COVID tests, but Bell and Health Services Administrator Lakisha Brown allegedly rejected their requests. They allegedly claimed that "detainees sought testing because they wanted attention, and that detainees were requesting tests as a pretext to get out of their cells."

Over-the-counter cold medication was allegedly used as a substitute for testing detainees to find out if they had the virus. Brown allegedly maintained that detainees only felt sick because the temperature was cold in their cells.

Wooten claims that during this time she observed ICDC medical staff "shredding detainees' written requests for exams or treatment and otherwise denying medical care by falsely documenting or reporting exams as performed that actually had not been performed."

Specifically, in April 2020, Wooten claims that she saw Brown "shred approximately 45 COVID test results. HSA Brown told Plaintiff that the papers were copies of tests. However, when Plaintiff used a list of individuals whose tests had been shredded to cross check their files, she observed that the test results were not in the detainees' files."
Not only did Wooten submit her own complaints of whistleblower retaliation, but she also added her name to a civil rights lawsuit in November 2020 that was filed on behalf of immigrant women who survived medical mistreatment at the ICDC.
The Government Accountability Project (GAP), which represents Wooten, says that she demands that a federal court order LaSalle Corrections to restore her employment in a position similar to the one that she held before she faced retaliation.

Wooten also wants a court to issue a judgment that LaSalle Corrections "must allow employees to communicate freely with the media and Congress about matters of public concern when doing so would not unduly interfere with business operations."

She seeks monetary damages for alleged violations of her First Amendment rights as well.  

"This is a precedent-setting case because Ms. Wooten is asking the court to regard LaSalle as having the same duties and capacity to be sued as does the DHS and ICE itself," GAP noted.
The lawsuit is what is known as a Bivens lawsuit. Bivens refers to a Supreme Court case in 1971 that created a precedent for bringing cases against federal government officials. However, courts have been extremely reluctant to allow plaintiffs to pursue damages when a case may set a precedent or lead to a court intruding upon national security and foreign policy matters.
GAP concluded, "Ms. Wooten's litigation, if successful, will validate to workers in more than 200 ICE detention centers that their rights will be vindicated if they speak up about wrongdoing and abuses perpetrated by federal contractors."