Julian Assange
Australian, Latin American Leaders Demand End To Assange Prosecution During US Trips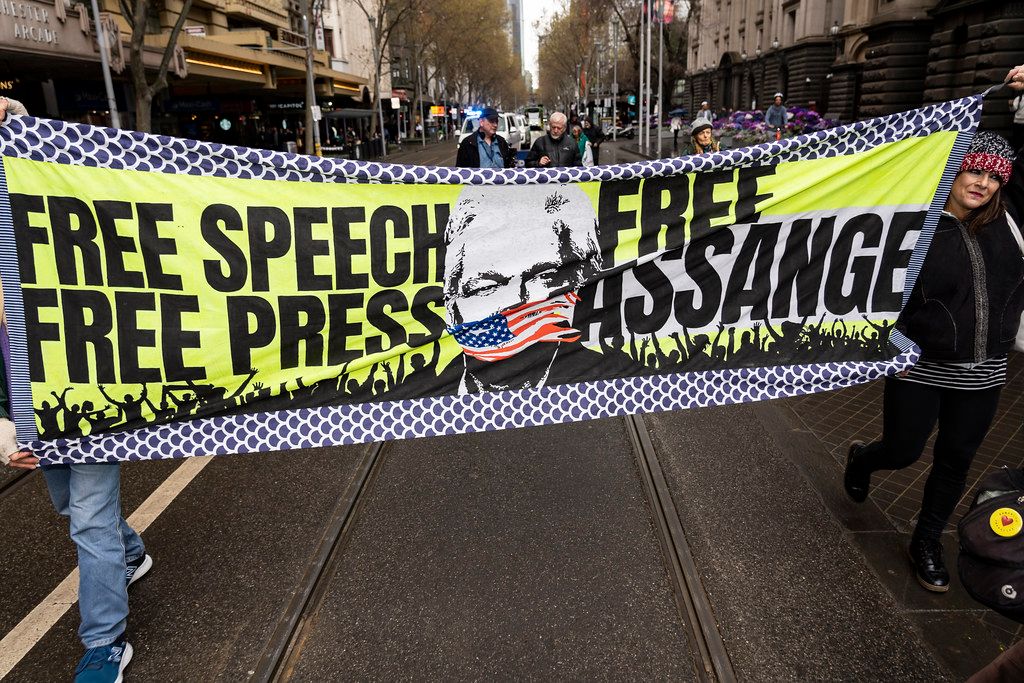 Support independent journalism on whistleblowers, government secrecy, and press freedom-related issues. Become a subscriber of The Dissenter.

The continued prosecution of WikiLeaks founder Julian Assange has the potential to create serious diplomatic problems for the United States.

Last week, during the 78th session of the United Nations General Assembly, two heads of state raised the issue of Assange's imprisonment.  
That same week an unprecedented cross-party delegation of Australian lawmakers came to the U.S. Australia is a key part of the U.S.-dominated security order, which makes the growing opposition within Australia a unique challenge.
Latin America's Resurgent Pink Tide Fights to Free Assange
During their addresses to the UN General Assembly, both Brazilian President Luiz Inacio Lula da Silva and Honduran President Xiomara Castro called for Assange to be freed. Lula stated, "It is essential to preserve the freedom of the press. A journalist like Julian Assange cannot be punished for informing society in a transparent and legitimate way." Castro struck a similar chord, calling Assange a "faithful defender of free expression."

Both Lula and Castro are left-wing leaders who were elected as part of what's been dubbed in Latin America as a second or resurgent "Pink Tide."
Lula had previously served as Brazil's president during the original Pink Tide. His left-wing successor was removed in an impeachment viewed by the left as a parliamentary coup based on false charges. Although he was likely to be returned to the presidency by voters, Lula was jailed under false charges, paving the way for the far-right and fascistic Jair Bolsonaro to become president.
After Lula was freed from prison, he narrowly defeated Bolsonaro in 2022. The victory  was viewed as a victory for democracy over authoritarianism.

Lula certainly hit on this theme during his speech, describing democracy as the antidote to "hate, misinformation and oppression," while warning of the twin threats of neoliberal economics and "far-right adventurers" who "deny politics and sell solutions that are as easy as they are wrong."  It was in this context that Lula extolled the virtues of press freedom and singled out Assange's persecution as a direct threat.
Castro was first lady during the administration of Manuel Zelaya. Zelaya, like Lula, was part of the original wave of Pink Tide leaders in Latin America.
Zelaya's administration was cut short in 2009 by a coup. In 2010, WikiLeaks released State Department cables that documented how the U.S. had recognized Zelaya's removal as a coup. However, the State Department under Secretary of State Hillary Clinton had worked to prevent Zelaya's removal from being recognized as such to keep military aid going to the coup regime.

U.S. military aid was used to repress social movements opposed to the coup (of which Castro was one of the leaders).

Assange faces extradition to the U.S. for publishing the very cables that document the U.S.'s role in the coup.
Both Lula and Castro have called for Assange's freedom before. And they have been joined by a number of their fellow Latin American heads of state, including Mexican President Andrés Manuel López Obrador, Colombian President Gustavo Petro, and Bolivian President Luis Arce. This is not a new development.

After all, it was the democratic socialist government of Rafael Correa, who originally granted Assange asylum. As I wrote for In These Times magazine when Assange was initially arrested:
While western media has focused on how Assange was a bad houseguest who wore out his welcome with his Ecuadorian host, they've missed a larger story. Assange's asylum came at the height of the Pink Tide, when left-leaning Latin American nations asserted their sovereignty against the U.S. It was President Rafael Correa who granted Assange asylum. Correa has blasted his successor for permitting the arrest of Assange, calling Moreno the ​"greatest traitor in Ecuadorian and Latin American history." The current president is embroiled in a corruption scandal. Ecuador's interior minister has accused one of Moreno's chief political opponents, Ricardo Patiño, of conspiring with WikiLeaks to destabilize the Ecuadorian government. Moreno's revocation of Assange's asylum comes on the heels of a $4.2 billion IMF loan, leading critics such as former Ecuadorian foreign minister Guillaume Long to assert the two were connected. Moreno's revocation of Assange's asylum came on the heels of a $4.2 billion International Monetary Fund (IMF) loan that led critics, such as former Ecuadorian foreign minister Guillaume Long, to assert that the two were connected.
'Sometimes It Is Very Hard To Be a Friend Of the United States'
Beyond opposition from Latin American leaders, the prosecution now threatens to create a rift between Australia—a key ally. Assange is an Australian citizen.

Australia Prime Minister Anthony Albaneses and Australian opposition leader Peter Dutton have both embraced the position of returning Assange home. As many as 90 percent of Australians agree with them.

As heads of state flocked to New York for the UN General Assembly, a high profile group of Australian lawmakers came to the U.S. They met with members of Congress along with officials at the Justice Department.

The delegation consisted of:
Barnaby Joyce (National) Former Deputy Prime Minister
Peter Whish-Wilson (Greens) Senator
David Shoebridge (Greens) Senator
Alex Antic (Liberal) Senator
Maria Vamvakinou (Labor) Member of Parliament
Tony Zappia (Labor) Member of Parliament
Monique Ryan (Independent) Member of Parliament

Sixty-seven members of the Australian parliament signed a letter in support of the delegation.

During a press conference for the delegation, Barnaby stressed, "We did not come here to pick a fight." Whish-Wilson similarly stated,, "Australia and the US are the closest of friends and the closest of allies."
The delegation stressed the high degree of support for releasing Assange in Australia. It is unclear how aware figures in Washington are of the growing concern from their key ally.

In addition to the delegation driving home the potential impact of the Assange prosecution on the U.S.-Australian relationship, the two Greens senators delivered a bold defense of Assange as a journalist. Speaking to "Democracy Now!", Whish-Wilson described Assange as a political prisoner, going so far as to say the prosecution was "something you might expect from a totalitarian regime."
Shoebridge also framed the U.S.'s prosecution of Assange in similar terms during a press conference. "The only crime that we see that Julian Assange has been charged with is the crime of being a journalist, the crime of telling the truth.

"Sometimes it is very hard to be a friend of the United States when the United States is prosecuting an Australian citizen for basically being a journalist," Shoebridge added.
Australia is far from an adversary of the U.S. It has been a loyal part of the U.S.-led military and security order. The country has provided combat troops for U.S. wars in Vietnam, Afghanistan, and Iraq. It is a member of the eight decades old Five Eyes signals intelligence alliance.

Since the 1960s, Australia has also housed a U.S. spy station in Pine Gap, which has played a pivotal role in the U.S. drone program.

In the 1970s, Labor Prime Minister Gough Whitlam began moving Australia away from the U.S. He withdrew troops from Vietnam and criticized the U.S. bombing campaign. This prompted some within the CIA to state "the Australians might as well be regarded as North Vietnam collaborators."

According to former CIA agent Victor Marchetti, Whiltlam's threats to close Pine Gap "caused apoplexy in the White House…and a kind of Chile was set in motion."

In 1975, Australia underwent a constitutional crisis and Whitlam was removed by the governor general—the official representative of the British monarch in Australia. Although no smoking gun has ever been revealed, to this day there remains serious suspicion that the CIA played a role. Either way, since then Australia has been a dutiful U.S. partner.
This makes support for bringing Assange home across all major political parties all the more astonishing.

The opposition in Australia includes those who correctly view Assange as a heroic journalist who stood up to the U.S., as well as those who detest Assange's journalism. Those against Assange's journalism have questioned why the U.S. is unwilling to return an Australian citizen to Australia after they have done so much for the U.S. empire.

While I shed no tears for the U.S. if it loses a willing accomplice to its wars, it shows the incredible hubris of the U.S. that officials have continued forward with this prosecution.  
Advocating For Assange on Capitol Hill
A full itinerary of the Australian delegation's meetings has not been made public. However, Rep. Ilhan Omar posted a "readout" on her website from her meeting with the delegation.

Senator Alex Antic posted to social media a picture of the delegation meeting with Sen. Rand Paul (R-KY) and Rep. Thomas Massie (R-KY). Rep. Marjorie Taylor Greene (R-GA) also stated on social media that she met with the delegation.

The Australian Broadcasting Corporation reported that the delegation was scheduled to meet with Rep. Jim McGovern (D-MA).
Both Massie and Omar have consistently opposed the Assange prosecution.
In 2020, Massie co-sponsored Rep. Tulsi Gabbard's (D-HI) resolution calling on then-President Donald Trump to pardon Assange. Massie later posted on social media in June 2022, "I have an admission to make. I asked Trump for TWO pardons and a commutation, and I ask the same of Biden. Pardon Julian Assange and Edward Snowden, and commute the sentence of Ross Ulbricht."

When co-sponsoring Senator Ron Wyden's and Representative Ro Khanna's Espionage Reform Act, Massie again evoked the press freedom implications of the Assange prosecution.
On December 15, 2021, Omar called the prosecution of Assange "indefensible" on Twitter. She reiterated this belief on June 18, 2022. Omar was one of seven Democrats who signed a letter initiated by Rep. Rashida Tlaib (D-MI) calling on Attorney General Garland to drop the charges against Assange.

Omar posted a readout on June 6, 2023, to her congressional webpage from a meeting with Sevim Dağdelen, a member of the German Bundestag and the deputy leader of the Left Party.  

According to the readout, "They discussed the Julian Assange case, and the threat his prosecution poses to press freedom. Congresswoman Omar also expressed her concern that the Assange prosecution undercuts US efforts to free journalists who are wrongfully imprisoned on espionage charges around the world."
In addition to opposing the prosecution of Assange, Omar has raised wider concerns with the Espionage Act. In 2022, she co-sponsored Tlaib's amendment to the National Defense Authorization Act to reform the Espionage Act.

The amendment included the same protections for journalists and publishers found in the Wyden-Khanna-Massie Espionage Act reform proposal, and it also went further by seeking to protect whistleblowers as well.

The proposal won the support of a number of national security whistleblowers, including the late Pentagon Papers whistleblower Daniel Ellsberg. [Disclosure: the amendment was also supported by Defending Rights & Dissent, where I am policy director.]

Omar publicly advocated that Biden pardon drone whistleblower Daniel Hale, who remains in prison.
In the past, Greene has called for Assange's freedom on social media. Neither Paul nor McGovern have previously spoken out in favor of dropping the charges against Assange (though Paul did call for Trump to pardon Snowden, and McGovern has advocated for human rights attorney Steven Donziger).
The press freedom implications for prosecuting Assange remain dire. If successful, the U.S. will successfully create a precedent that undermines core First Amendment protections. It will pave the way for punishing any journalist, who publishes classified information.

The U.S. will also create a political precedent that could inspire other governments to extraterritorially apply their own domestic laws against international correspondents operating in their countries.  
President Joe Biden and the White House have sought to juxtapose themselves against Trump by showing their commitment to democracy, press freedom, and the rule of law. In spite of this, the Biden administration has continued on with the Trump-era prosecution.