Julian Assange
Amnesty International Resists Calls To Designate Assange A 'Prisoner Of Conscience' As Extradition Looms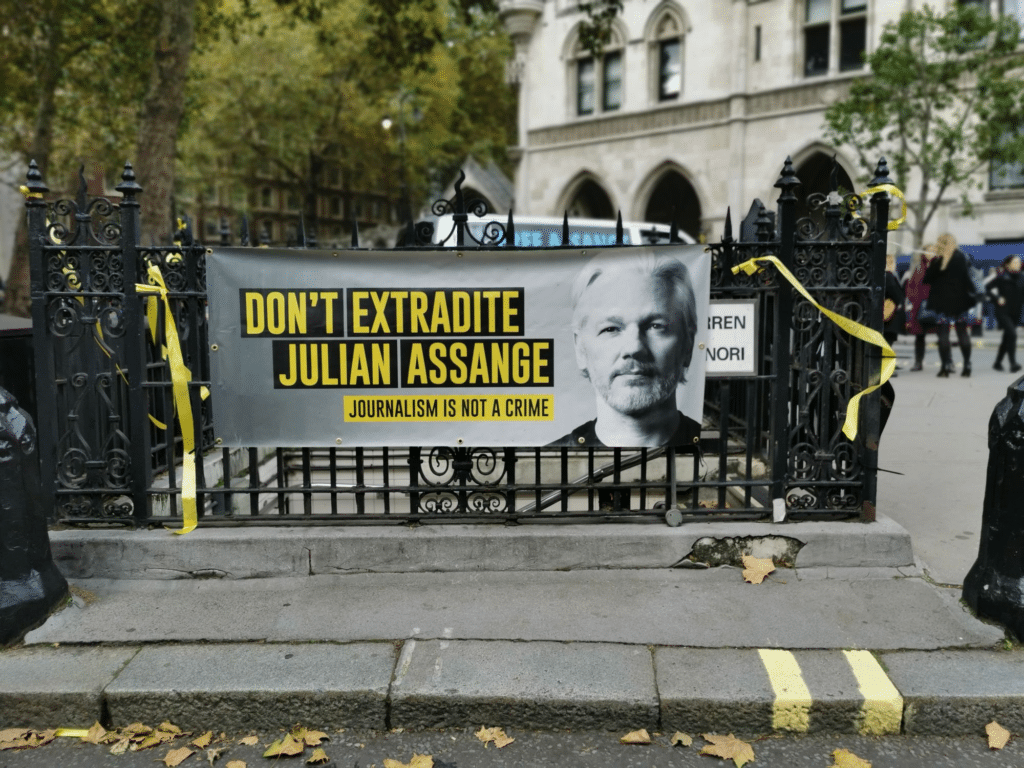 This article was funded by paid subscribers of The Dissenter Newsletter. Become a monthly subscriber to help us continue our independent journalism.

The international human rights organization Amnesty International has resisted calls to designate WikiLeaks founder Julian Assange a "prisoner of conscience," even though the organization acknowledges he is the target of a "politically motivated prosecution" by the United States.

Amnesty recognizes that Assange is "arbitrarily detained" in Belmarsh high-security prison, and the prosecution poses a "grave threat to press freedom."
Despite the human rights organization's description of the prosecution as "devastating for press freedom and for the public," it is not immediately clear why Amnesty has not granted Assange prisoner of conscience status.
Amnesty UK's board opposes additional resources for Assange campaign
Amnesty was repeatedly offered the opportunity to comment for this article. No one affiliated with Amnesty responded.

According to off-the-record conversations, there are Amnesty members who have pushed their organization to designate Assange a prisoner of conscience and ramp up their campaigning to secure his freedom.
A recently published notice to Amnesty UK's upcoming general meeting planned for June 25 reveals that the group's board "opposes" a resolution by membership based in Richmond and Twickenham. The members have called for "greater campaigning support for Julian Assange, press freedoms, and the Human Rights Act." (Note: The ruling Conservative Party backs the repeal of the Human Rights Act and has pledged to replace it with a "British Bill of Rights.")
"The board opposes this resolution because, although we recognize the serious human rights issue at stake, this is already a well-resourced and well-publicized campaign on which additional campaigning by AIUK is likely to have limited impact," according to the notice.
Furthermore, the board, which says that they are already planning a "major campaign" this year on the subject of defending the Human Rights Act, "believes linking Julian Assange's case to the Human Rights Act campaign would tie both issues to a specific campaigning approach which may not be effective."
"It is not clear whether the issues involved in the Julian Assange case would supplement or detract from broader campaigning in defence of the [Human Rights Act," Amnesty UK's board adds.
The board concludes, "Building a bigger campaign on Julian Assange's case is outside of existing staff resources and would require a reduction in our work with other individuals at risk."
Amnesty UK's Richmond and Twickenham branch have also proposed a resolution calling for "clarity in the process for designating prisoners of conscience". The branch resolution explicitly cites the failure to designate US Army whistleblower Chelsea Manning and Assange prisoners of conscience as part of its background on the subject.
Amnesty's prisoner of conscience label matters
Receiving prisoner of conscience status by Amnesty greatly elevates an individual's plight in the media and within the wider public consciousness.

It may result in increased resources dedicated to supporting that individual, additional pressure on politicians and governments, and improve the chances that they will ultimately be released.
Amnesty defines a prisoner of conscience as, "someone who has not used or advocated violence or hatred but is imprisoned because of who they are (sexual orientation, ethnic, national or social origin, language, birth, color, sex, or economic status) or what they believe (religious, political or other conscientiously held beliefs)."
For several cases, Amnesty credits their "sounding the alarm" and refusal to "let free speech be ignored" with "justice being served."
Many people labeled prisoners of conscience by Amnesty include journalists and editors. They are often labeled when they are first detained—and before they are tried or convicted.

Amnesty may designate a journalist or editor a prisoner of conscience if they have faced retaliation, incarceration, or prosecution in connection to their newsgathering. The retaliation also may be connected to dissenting views that they have expressed.

The US prosecution of Assange fits the criteria.

In March 2020, Venezuelan journalist Darvinson Rojas was charged with "advocacy of hatred" and instigation to commit crimes". Amnesty labelled his 12-day detention "arbitrary" and categorized Rojas as a prisoner of conscience because they considered the charges to be "politically motivated in an attempt to silence his reporting on the pandemic in Venezuela".
The same year Daler Sharipov, a "well-known journalist in Tajikistan," was labeled a prisoner of conscience after he was detained for allegedly "inciting religious discord" for printing and sharing copies of his dissertation.

Sharipov was accused of publishing "extremist" articles on religious matters and of being linked to a banned extremist organization.

"He is a prisoner of conscience, detained solely for exercising his right to freedom of expression, and must be released immediately and unconditionally," Amnesty declared, prior to the trial against Sharipov.
Amnesty used World Press Freedom Day in 2016 to highlight the plight and work of journalists in 9 different countries, many of whom were labelled prisoners of conscience while they were detained. In the past years, they have issued press releases with variations on that theme.
Detained at Belmarsh prison since 2019, Assange has seen four World Press Freedom Days go by while fighting extradition. He would have benefited from the additional news and media coverage that a prisoner of conscience status provides.
Yet since his arrest and expulsion from the Ecuador embassy in London, Amnesty has not mentioned him in any of their posts for World Press Freedom Day.
The controversy over designating Alexei Navalny a prisoner of conscience
Controversial figures like Alexei Navalny have received prisoner of conscience status despite failing to meet all of the criteria for the designation.
In fact, Amnesty removed Navalny's prisoner of conscience status in February 2021 in response to many of its members raising the issue of the Russian's deeply xenophobic characterisations of immigrants.

The New York Times noted in 2011 that Navalny spoke alongside neo-Nazis and referred to members of the Caucasus as cockroaches.

Faced with intense mainstream media pressure,  Amnesty ultimately reversed their decision a few months later, following another internal review. They accused the Russian state of exploiting Amnesty's removal of the designation to ratchet up their persecution of Navalny.
Unlike Navalny, Assange has never endorsed hate speech against minority groups or signaled that he supports neo-fascists.
In 2019, French journalist Jack Dion argued, "Julian Assange's tragedy is that he is Australian, and not Russian. If the Kremlin were after him...governments would be competing for the honour of offering him political asylum."

"His likeness would be projected onto the façade of the Hôtel de Ville [Paris city hall], and [Mayor] Anne Hidalgo would stop illuminating the Eiffel Tower until he was freed," Dion added.
Similarly, an editorial director and member of the board of France's monthly newspaper Le Monde Diplomatique—which worked with WikiLeaks when it published the very documents for which Assange is now being prosecuted—juxtaposed the nature of the coverage that Navalny has received compared to Assange in their article, "If only Assange had been Navalny."
A 2002 interview with former Amnesty board member and international law professor Dr Francis A. Boyle offered some insights into the inner workings of the organization.
"If you are dealing with a human rights situation in a country that is at odds with the United States or Britain, it gets an awful lot of attention, resources, man and womanpower, publicity, you name it, they can throw whatever they want at that," Boyle contended.
"But if it's dealing with violations of human rights by the United States, Britain, Israel, then it's like pulling teeth to get them to really do something on the situation."
"They might, very reluctantly and after an enormous amount of internal fightings and battles and pressures, you name it. But you know, it's not like the official enemies list," Boyle maintained.
Amnesty has called for President Joe Biden's administration to drop the charges, but much of their advocacy has come late in the day and after extensive lobbying by grassroots campaigners.

The shift in their position reflects the fact that the human rights organization is capable of updating its stances and outlook if necessary for their credibility.
Assange faces 175 years for publishing documents that revealed war crimes and other government secrets
"The US government's unrelenting pursuit of Julian Assange for having published… documents that included possible war crimes committed by the US military is nothing short of a full-scale assault on the right to freedom of expression", declares an Amnesty e-petition demanding the US charges be dropped.
The WikiLeaks publisher faces up to 170 years in prison in the US for receiving and publishing the Iraq War logs, the Afghanistan Diaries, the Guantanamo Bay detainee files and US diplomatic cables from 2010 to 2011, which were leaked to him by US Army whistleblower Chelsea Manning.

Assange faces another five years on top of that if US prosecutors can convince a jury to convict him for a conversation he allegedly had with Manning in which he ultimately told her that he could not help her crack a password hash, which his defense says would have allowed her to access an entertainment site blocked by the military (often misreported as a "hacking" charge).
Nineteen press freedom organizations, including Reporters Without Borders, Big Brother Watch, the National Union of Journalists and PEN International, agree with Amnesty, and signed a joint letter "urging UK Home Secretary Priti Patel to reject the US government's request to extradite Wikileaks publisher Julian Assange."
Patel will issue a decision after May 17, once Assange's attorneys have filed their final arguments as to why she should deny his extradition. She has two weeks after to make an announcement.
Assange is at real risk of torture if extradited to the US, Amnesty says
In many of the cases where journalists are designated prisoners of conscience, Amnesty fears that the detained journalists are at risk of torture.
Amnesty has repeatedly stated that in the United States Assange would "face a real risk of serious human rights violations due to detention conditions that could amount to torture or other ill-treatment, including prolonged solitary confinement."
Westminster Magistrates' Court initially rejected sending Assange to the US on the basis that he was at high risk of suicide due to the conditions that he would be subjected to in the US and his own history of depression as well as being on the autism spectrum.
That decision was reversed by the High Court, which accepted "assurances" from the US State Department that Assange would not be subjected to extreme conditions likely to result in his suicide—unless he said or did something which would then justify it.
Amnesty blasted the assurances offered by the US as "deeply flawed" and which "could be revoked at any time."

"Extradition to the USA would put Assange at risk of serious human rights violations, and hollow diplomatic assurances cannot protect him from such abuse," Amnesty stated.
Amnesty understands: the prosecution against Assange is politically motivated; the charges should be dropped and he must be freed; his continued detention is arbitrary; he is at real risk of torture if extradited; and the prosecution against him represents a grave threat to press freedom and the public's right to know.
It is plainly clear. Julian Assange satisfies all the criteria that Amnesty applies when designating someone a prisoner of conscience.