Leaks
Air National Guardsman Arrested For Pentagon Documents Leak Will Likely Face Espionage Act Charges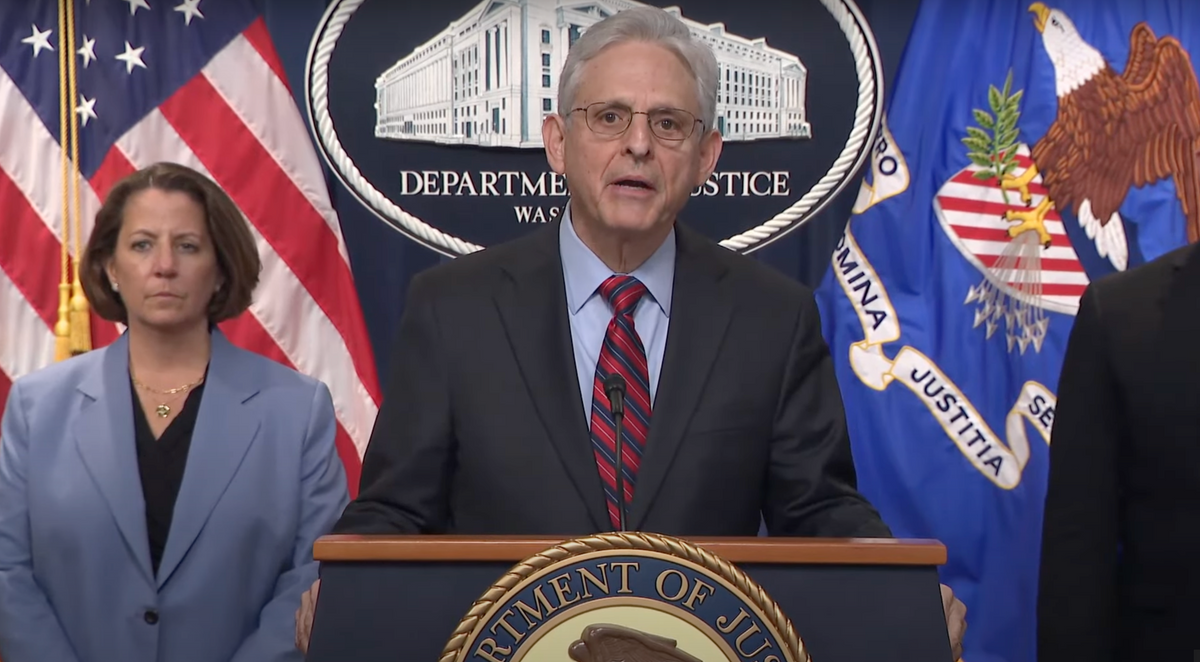 A 21-year-old reservist in the United States Air National Guard suspected of leaking Pentagon documents to an invite-only group on Discord was arrested by the FBI outside his home in North Dighton, Massachusetts.

Jack Teixeira was not immediately charged with a crime, however, U.S. Attorney General Merrick Garland stated that he was taken into custody because of his "connection with an investigation into alleged unauthorized removal, retention, and transmission of classified national defense information."

ABC News reported that the FBI had "moved in with heavy firepower out of concern for his military background."

Teixeira was expected to be arraigned on April 14 in a federal court in Boston.

Although Garland's statement on the arrest was brief and very thin on details, the fact that he used the words "classified national defense information" signaled that the U.S. Justice Department (DOJ) likely planned to charge Teixeira with violating the Espionage Act.
Over 100 documents were allegedly leaked by Teixeira, according to news reports. They relate to the war in Ukraine, U.S. spying on allies, and other sensitive military and national security matters that are typically closely guarded by officials.

The DOJ could charge Teixeira with leaking a handful of documents or all of the documents. Most likely, they will pick several files that can support an indictment against Teixeira.
The leak of U.S. military documents has garnered widespread news media attention over the past week, especially as the New York Times identified the leaked materials and the Washington Post confirmed further details about Teixeira.
Teixeira, according to the Post, "formed an invitation-only clubhouse in 2020 on Discord." The group was made up of a couple dozen men and boys, who were "united by their mutual love of guns, military gear, and God, and Teixeira, who went by the moniker "OG," behaved like the "elder leader of their tiny tribe."
He reportedly used his access to classified information to impress those in the Discord group, "Thug Shaker Central," which has racist connotations.

Teixeira initially transcribed classified documents for the group, yet as he grew frustrated because members were not reading the material he posted, he shifted his tactic for sharing the information.

"Rather than spend his time copying documents by keyboard, he took photographs of the genuine articles and dropped them in the server. These were more vivid and arresting documents than the plain text renderings," the Post reported.
In early March, one teenage member of Teixeira's group shared photographs of the documents to another Discord group made up of people who shared memes and played video games, like Minecraft. They were apparently posted by the user to help them win an argument, and the photographs sat there for numerous days before they began to circulate on Twitter and Telegram.
The New York Times reported that the documents contained charts for the Ukrainian military that detailed "anticipated weapons deliveries" and "troop and battalion strengths." They highlighted how U.S. intelligence is spying on Ukraine leaders and other allies, like South Korea.
"Many pages seem to come right out of the briefing books circulating among the Joint Chiefs of Staff, and in a few cases updates from the C.I.A.'s operations center," the Times declared.

One document from February 28 contemplated how the U.S. could pressure Israel to provide military weapons to Ukraine.

"The 'most plausible' of four options laid out in the assessment is that Israel could adopt the 'Turkish model' under U.S. pressure and provide lethal defense systems through third parties while advocating a peaceful conclusion to the war in Ukraine and offering to host mediation efforts," the Times noted. "The document notes that Turkey has successfully maintained cordial relations with Russia while facilitating arms transfers to Ukraine."
Pentagon spokesperson Brig. Gen. Patrick Ryder called the posting of documents a "deliberate criminal act" and a violation of clear guidelines for safeguarding classified information.

CNN reported that Teixeira joined the Air National Guard in September 2019, according to his service record. "His official job [was] Cyber Transport Systems journeyman. According to the Air Force, Cyber Transport Systems specialists are tasked with making sure the service's 'vast, global communications network' is operating correctly."

The leak immediately drew comparisons to the cases of NSA whistleblower Edward Snowden and U.S. Army whistleblower Chelsea Manning.
In the cases of Snowden and Manning, the information they disclosed was largely historical and did not consist of real-time information that could endanger U.S. military forces or forces backed by the U.S. government.

Revelations that U.S. intelligence was spying on certain allies, such as Germany, led to some fallout. However, tensions quickly thawed.

Both Snowden and Manning had whistleblowing motives when it came to sharing the information with the press and public. In contrast, Teixeira was apparently motivated by a desire to use his access to files to boost his stature as the leader of this invite-only chatroom.

As with the Snowden and Manning cases, it does not matter that Teixeira had no intention to harm the U.S. government's war-making in Ukraine or help Russia gain access to intelligence about Ukraine's military plans.

The Justice Department prosecutes these types of cases like they are strict liability crimes. All prosecutors have to do is prove that Teixeira knew the information was classified "national defense information," and that he was behind the leak. Then they can make an example out of him.

If prosecutors have proof that he was the leaker, Teixeira will want to accept whatever plea agreement the government is willing to offer because going to trial will only guarantee that he spends a longer time in prison.
Thanks for reading. If you're able to support independent journalism, become a subscriber of The Dissenter Newsletter or leave a tip.